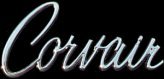 The Fitch Sprint Corvair
| | |
| --- | --- |
| Here's a Corvair Corsa modified by John Fitch & Co. Inc., Falls Village, Connecticut. During the Sixties, the Fitch "Sprint" Corvair was marketed in various stages of tune. The power train, suspension and steering were modified to turn the car into a grand touring machine. There were also cosmetic changes including a unique "Ventop" add-on, which became a signature Sprint item. | |
Fitch modifications to the '65 model enhanced the stock 140 horsepower Corsa into a more spirited car. Changes in the engine compartment included individual air cleaners for the 4 carburetors, an upgraded crankcase breather and 3 degrees of additional ignition advance. Advertised horsepower was 155.
A GT suspension package added progressive rate, auxiliary rubber springs and a pair of adjustable Gabriel shocks on the rear. Rear camber was set to one and a half degrees negative. Front suspension was set at four degrees positive caster with a quarter-degree of positive camber. Heat-treated and Magnafluxed short steering arms took the steering ratio down from the stock 23:1 to 15:1. Also available was a Delco steering damper unit from the Corvette parts bin. It was mounted using special brackets.
Other touches included available Hands aluminum wheels, a tempered aluminum, wood-rimmed steering wheel and a Lucas Flamethrower driving light mounted in the driver's side high beam position.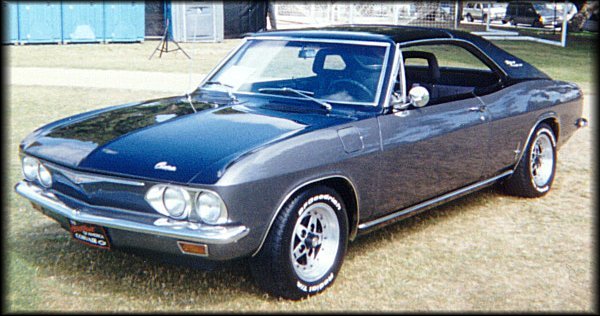 1965 Fitch Sprint - Photo by Stanley Dea, Los Angeles, CA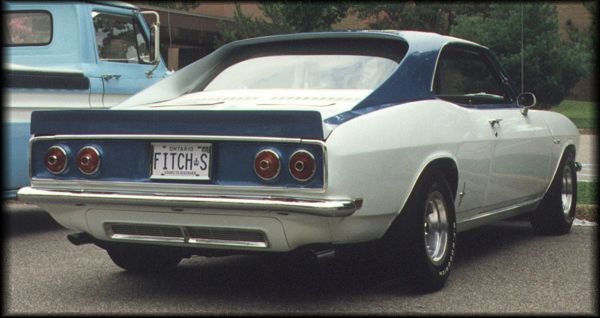 1966 Sprint owned by David Presson of Oshawa, Ontario, Canada
Photo by Rick Norris
More information on the Fitch Sprint is available in the "Extra!" section, where you'll find a vintage CAR and DRIVER article with photos. Take the direct route by clicking here to bring up the article in a new window.
To have a look at John Fitch's incomparable Corvair-based Fitch Phoenix sports car, click on the road sign.

Select from the navigation bar!