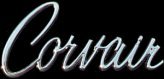 Design Studies
General Motors' Experimental Corvairs
"Pipes! Wait 'til the kids in their Chevys see these pipes!" said Bill Cosby on his album 200 Miles per Hour, a reference to a wickedly fast, custom built Carroll Shelby Ford.
These were the Sixties, and Chevy kids had plenty of reason for excitement too, with General Motors brewing awesome big block rat motors (Not for the Corvair, of course!) and offering up a constant supply of prototypes to keep the photo spies happy.
Let's look at a couple of Chevrolet design exercises. The Corvair GT coupe, and the SS roadster. These lightweight and powerful rear-engine future cars wowed the masses at car shows in America and Europe.
Had you lived in Canada's Atlantic provinces during the '60s, as I did, you might have heard the GT described as a "nice SLED."

That's kind of a tip-off that in my part of the world, snow and ice would keep the GT in the garage at least four months a year.

Imagine this one in your driveway!


1962 Corvair Monza GT design study
The Monza GT was built on a 92" wheelbase, 16 inches shorter than the production cars (108"), and 3 inches shorter that the Corvair 95 truck series. The GT's overall length was 165", 15 inches shorter than the early model production cars.
The Monza GT was originally powered by Corvair's 145 cu. in. 102 hp flat-six, mounted ahead of the transaxle, amidships. The transaxle was turned end-for-end to accommodate the design. Later, a 150 hp turbocharged engine was installed, and reports exist that it also was, at one time, equipped with a twin-turbo Corvair engine.
Click road sign for more photos of experimental Corvairs.

Select from the navigation bar!