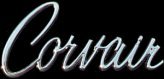 The Corvair's optional wheel covers
Optional at extra-cost simulated wire wheel covers looked terrific on the boulevard at night with street lights glinting off the spokes and tri-spoke spinners. The wire covers fit the Corvair's standard 13-inch wheel diameter, but the Chevy parts counter for identical covers in 14-inch and 15-inch sizes, enabling enthusiasts to use larger wheels and tires without compromising the stock appearance of the car.
| | |
| --- | --- |
| 1964-66 hub spinner | Simulated wire wheel cover |
Of course, changing the outside diameter of the tires affected the final drive ratio and speedometer calibration, so, as usually is the case, one modification leads to another. Modern low profile tires make it possible to increase wheel diameter and maintain original outside diameter specifications, if desired. The combination will often enhance handling, particularly when combined with suspension upgrades.
| | |
| --- | --- |
| Chevrolet offered another optional wheel cover on its mid-Sixties cars. It was a simulated 'mag-style' cover like the one on the Corsa convertible pictured here. As with the simulated wire cover, it was available in larger sizes intended for the Chevy Nova, Chevelle and full size Chevrolets. | |
Click the road sign to see some mid-Sixties custom wheels for the Corvair.

Select from the navigation bar!