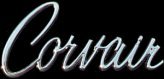 Links
This web site links the majority of Corvair sites on the Internet, including Corvair club sites, Corvair owner and enthusiasts sites, links to parts and restoration services and various other Corvair-related special interest sites. Some of the listed sites are professionally presented, vast resources, while others are under development.
You may want to use the Feedback link on the navigation bar at the bottom of the page to suggest a link. Of course, feedback regarding dead links found on these pages will be appreciated and all reported problems will be corrected.
Surf's up!
Select a category from the road sign.
Select from the navigation bar!