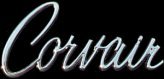 The Yenko Stinger Corvair
| | |
| --- | --- |
| During the Sixties, Don Yenko, the noted road racer associated with Yenko Sportscars, Inc. in Canonsburg, Pennsylvania, produced the Yenko Stinger Corvair and a number of other high performance vehicles like the COPO (Central Office Production Order) big block Camaro of the late sixties. | |
Based on the Corvair Corsa or Monza, and very popular in SCCA racing circles, the Yenko Stinger was available in four stages of tune with 160, 190, 220 and 240 horsepower engines built up from Corvair's 164 cubic inch, flat-six.
#YS-096, at right, is one of two Stingers owned by Mike Phillips of Tulsa, OK. His other Stinger is #YS-095.
A Stinger convertible?

Yenko Stinger #YS-302 is the only known Stinger convertible in existence. Interestingly, a few years ago, its owner, Jeff Moore, sold Yenko coupe #YS-043 to television and movie star, Tim Allen, of Home Improvement fame. Tim has apparently had more than a little experience with Corvairs.
His first car, one he's been quoted as saying he loved, was a Corvair handed down from his brother. He has a current Corvair love affair too, with the Stinger pictured at right. Its the same car Jim Schardt raced in the 1970's, finishing 4th at the SCCA runoffs in 1973, and 3rd in 1974.

According to Jeff, Tim has run the car in vintage races and now keeps it out in California in the same shop with Jason Priestly's race cars.
Click the road sign for more on the Yenko Stinger.

Select from the navigation bar!