Optimization
This site is designed to be viewed at 800 X 600 or better resolution with color depth set to 16.7 million colors or greater (24-bit, 32-bit, etc.). At lesser resolutions, some images will exceed page boundaries and text will, in some cases, spill beyond margins. At lesser color depths, pictures may appear grainy.
Some images were re-touched to enhance the viewing experience. In most cases, only the backgrounds were modified to remove debris or background clutter. In a few shots, side windows were removed (in effect, rolled down) to improve the looks of the hardtop models originally photographed with the windows closed. This was accomplished using Paint Shop Pro software.
Why a Corvair Site?
At one time, I believed I was the most Corvair-obsessed individual on the planet. I've since come to my senses and now know I am not alone. The Internet does that. It causes you to realize others share your special interests, and it provides you with a wonderful opportunity to share those interests with others.
My fascination with Corvairs started in 1961, when my parents came home with a new Corvair 700, 4-door sedan with an automatic transmission and a unique shift control lever in the dashboard. It had no PARK position, therefore it was imperative to engage the emergency brake while parked. The in-dash shifter is often remembered, but it wasn't the Corvair's most remarkable feature. The flat-6 engine in the rear was.
After getting to know the family sedan Corvair, it wasn't long before I noticed the sporty '61 Monza coupe. Then, as explained in the introduction, I fell in love with the turbo-charged Monza Spyder, and later, ended up driving my Dad's '65 Corsa Sport Coupe after turning 16 and getting a driver's license in January, 1966.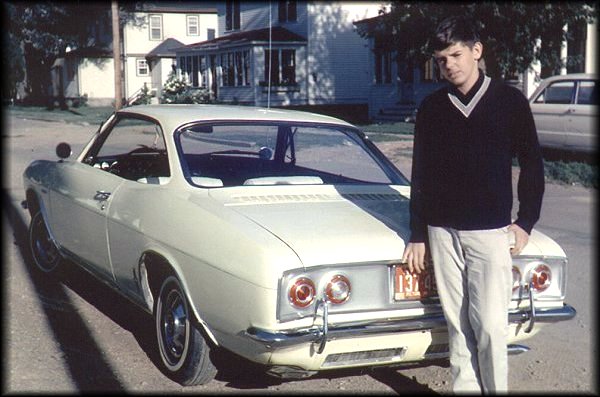 Canadian built 140 Corsa and Corvair enthusiast, Gary Aubé, circa 1965

Since then, I've owned or leased a variety of cars including a 350 cubic inch (5.7 liter) Tuned Port Injection IROC Z-28 Camaro, a BMW 635CSi, the awesome Lexus SC400 sport coupe, a Lexus ES300 sedan and an Acura TL. I've been fortunate to drive the stunning Dodge Viper (488 cubic inch V-10) and other very fast cars, and I consider the Corsa as appealing as any of those in its own way.
The collection
In 1997, I started collecting Corvair pictures, and as my collection grew, I decided to construct a web site dedicated to the car. At the time I knew very little about web design, and I wanted to learn, so I combined the two interests and launched this site. I decided I would try to give the page a professional appearance with user-friendly navigation qualities, lots of pictures and facts about the Corvair. I began attending Corvair events and photographing Corvairs with the intention of building the most comprehensive Corvair photo gallery on the web. Since that time, others have had similar thoughts and have built Corvair sites of their own. You'll find most of them in this site's Links section.