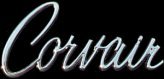 The Fitch Sprint in CAR and DRIVER
"It's real grand touring on a shoestring, thanks to the
old pro, John Fitch" - Car and Driver, September, 1965
Please keep in mind as you read the following article, that it was written in 1965. Otherwise, when you see the prices mentioned, you'll be tripping over things to get to the phone to place a call to John Fitch.
Some things don't change; you can still buy a late model Corvair without going broke, and the modifications mentioned in the article are valid even today, thirty-something years later.
I'd like to name the writer for you, but unfortunately, when I checked with the CAR and DRIVER corporate offices, I was informed no records exist of the writer's name. This won't get in the way of your enjoyment, though, so let's move on to a professional's opinion of the Fitch Sprint, and photographs by Tom Burnside.
John Fitch has the sort of wispy gentleness more often associated with a high school English teacher than a great racing driver. He's tall and slightly round-shouldered, with a shock of thinning hair and the brand of articulate good manners that makes it difficult to accept his credentials as one of the finest road racing drivers ever produced in the United States.
The passing years and the press of business have ended Fitch's racing, but nevertheless he still drives superbly, with the same effortless, almost casual style that made him so successful with the Cunningham and Mercedes-Benz teams. Should you ever be driving through the rolling country of northeastern Connecticut, with its monotonously picturesque white clapboard colonial houses, you might be overtaken by a nasty-sounding Corvair with a flat black deck-lid and a rakish roof line. Don't bother trying to keep up, because it may be John Fitch out running in a Corvair Sprint—one of the nicest custom styling and performance packages available in today's growing automotive accessory market.




Click the road sign for more.

Select from the navigation bar!