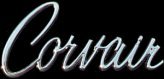 Crown Corv-8
The Crown Corv-8 conversion kit for the late model Corvair enables the installation of a small-block Chevy engine in a mid-engine configuration. The original kit was produced in the late Sixties and included an adapter and most of the components needed. It was developed by Ted Trevor, who is seen at right, almost 40 years later, in 1997, attending the national Corvair convention in Lake Placid, NY. He showed up in his '66 Corv-8, spoke to and mingled with convention goers and proved he's still an active and enthusiastic Corvair aficionado.

Corv-8 components are still available from Corvair parts vendors. For more information, reference the list of vendors included in the Links section of this site, under the heading Corvair Parts & Restorers, and contact them.
| | |
| --- | --- |
| This section offers 3 Crown conversion features. One is a 4 page reprint of an article from an early Seventies magazine, the 2nd is a 45 page spread on an outstanding Corv-8 rebuild by West Virginian, Rick Norris. It includes many high-resolution photos, a detailed technical description and a specifications sheet. The 3rd is short feature on a cleverly engineered stroked 383 cu. in. Corv-8 roadster. | |
Select from the navigation bar!