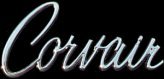 | | |
| --- | --- |
| | Stinger |
Members of the West Michigan Corvair Club (WMCC) attended Corvair Showcase '98, the national convention in St. Louis, and captured a trio of excellent pictures of Yenko Stingers. They are posted here with the permission of the club. Thanks to Dave Ziebarth.

The WMCC home page appears in the Links section, along with a number of other Corvair clubs appearing under "Corvair Clubs/Organizations."
The coupe, #YS-20, is owned by Terry D. Mitchell. Terry is the car's third owner, and he has the original Chevrolet Protection Plan booklet with Protect-O-Plate, copies of titles and owership papers from all previous owners. He also has the S.C.C.A. vehicle log book and grid sheets from races in 1976 and 1977.
Terry purchased the car in 1993 and returned it to its original Stage II Street condition as seen in the photo. It took 1st Place in the Race and Stinger Class of the car display at the National Convention in St. Louis, where the picture was taken.
The convertible, Jeff Moore's #YS-302, is the same car seen on the previous page and is said to be the only late model Yenko Stinger convertible in existence.

Jeff also owns Yenko Stinger #YS-097, a car once raced at Zandvoort in Holland, and possibly the only Stinger with European race history.
This sinister looking racer breaks from the traditional blue on white Yenko paint scheme. It belongs to Dan Gianotti and is not an original Yenko, but in my opinion, is a very attractive and serious looking race car!

Original Yenko Stinger specifications, indicating stages of tune, are set out at the end of this section.
| | |
| --- | --- |
| Here's a great shot of Chuck Sadek and his Stinger #YS-073, hard at work in Turn 1 at Summit Point Raceway, a challenging 10-turn, two mile road racing circuit set in the pastoral Shenandoah Valley, located only 70 miles from the Washington, DC and Baltimore, MD metropolitan areas. We can see that Chuck was in good company at the event. Seen just over the roof of his Stinger is a a rare Aston Martin racer Chuck describes as being "gorgeous up close." | |
Click the road sign for more on the Yenko Stinger.

Select from the navigation bar!