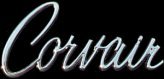 Links
Other Corvair & Special Interest Sites
Check out the Corvair with the $50 paint job!
Corvair at Wikipedia.org, the free encyclopedia
Corvair powered "Man from U.N.C.L.E." Pirahna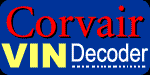 Dave and Rhonda's Burn-out Page
Thomas Sowell on Ralph Nader and the Corvair
True Exploits of a Yenko Stinger
William Wynne's flycorvair.com aircraft site
Special Interest Sites





Select a category from the road sign.
Select from the navigation bar!