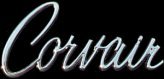 Vintage Corvair Funny Cars
Another shot of Hayden Proffitt's Corvair-bodied missile clearly shows the lack of glass in the penthouse. Note the driver's position in the center of the car and the ground clearance...no ground effects here!

From a 21st century point of view, it's a little difficult to think of this steel-bodied 'door slammer' as a funny car. In the mid-'60s, Proffitt's Corvair helped define the funny car genre.
To the moon, Alice!

Hayden eventually dispensed with the weight of the coupe's top altogether and wowed spectators with 'moon shot' launches like the one in the photo at right.

On December 23, 1966, Proffitt's topless coupe graced the cover of NHRA Drag News under the headline "Hayden Proffitt Tops Funny Car Meet."
The increasing popularity of funny cars was unstoppable, and by the late '60s, spectators were treated to an impressive array of radically modified flip-top 'floppies' (so-called because of the flex exhibited by their fiberglass bodies). The Funny Car class became drag racing's most popular.
The beautiful extended-wheelbase Corvair-bodied racer seen below was campaigned in the Fuel Funny Car class by the Pisano Bros., known to their friends and fans as 'Uncle' Joe and Frankie.
In 1969, with Frankie in the hot seat, the Pisano Bros. Corvair stormed to an awe inspiring elapsed time of 7.435 seconds @ 195.64 MPH!

Photos courtesy of
Drag Racing Memories
4900 E. Berlin Rd.
Thomasville, PA 17364
(717) 259-9341
Click the road sign for more.

Select from the navigation bar!