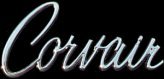 Vintage Corvair Funny Cars
Sush Matsubara and the Pisano Bros.
an eyewitness account by Karl Stalcup

I had just arrived at the track when I heard, "This is Sush's first pass in a funny car—he's one of the premiere altered shoes in the business—now he's going to drive for the Pisano Brothers."
| | |
| --- | --- |
| Needless to say, I ran for the rail on the spectator side, right at the starting line as the car fired up. The car was in the Spectator lane. Sush did an awesome burnout. The dry hop looked great. He staged the car. Green! He left hard, coming right up on the rear tires, carrying the front end past the tree. The front end came down about 200 feet out, and it was "Left Turn Clyde." | |
Disaster strikes

So ended the life of the strongest pure Chevy on the left coast. I have the impression in my mind of the Corvair being up on the right side tires only as it hit the pit side guardrail. Back of the mind going, "that's a different view of the car."

Sush got out of the car fine, but it was a sad ending for one of my favorite floppers.
| | |
| --- | --- |
| At right, In the aftermath of the crash, the ill-fated race car's bits and pieces were collected and loaded on a flatbed. That Sush Matsubara walked away from the crash is a tribute to the professionalism of the Pisano team, the track operators and the sanctioning body, who's safety standards and systems are often underappreciated by drag racing participants and spectators. | |
While the crash ended this Corvair's drag racing days, the Pisano Bros. built many other cars and continued racing well into the '90s. The brothers haven't raced since Joe suffered a fatal heart attack at a track in Denver. He died doing what he loved to do, and he did it with gusto.

More drag racing photos
are available from
Drag Racing Memories
4900 E. Berlin Rd.
Thomasville, PA 17364
(717) 259-9341

Select from the navigation bar!