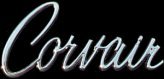 The turbocharged 1965 and '66 production Corsa engines represented the pinnacle of factory performance development from the 164 cubic inch, aluminum alloy, "pancake" Corvair engine. The turbo was rated at 180 horsepower @ 4000 RPM and brought extra high-end performance to the Corsa.
Those who were nervous about the reliability of the turbocharger, or who didn't want to put out the extra money for the option, often argued that the optional engine wasn't as crisp off the line or at lower RPM as its normally aspirated sibling, the four-carburetor 140 hp engine.
| | |
| --- | --- |
| | The turbo could be made to perform off-the-line, too. According to John Wipff's book, The Complete History of Corvair for the Complete Corvair Nut Volume 1 (Volumes 1 and 2 are available from Clark's Corvair Parts in the Links section of this site), Dick Griffin of Lansing, Michigan, twice won the NHRA national drag racing championships in a B-Stock class turbocharged Corvair. His best time for the standing-start quarter-mile was 13.03 seconds at 113.92 mph! |
No doubt, the turbocharged 180 was the configuration of choice for the open road. Once the turbo was spooled, you were in for a spirited ride!

180 horsepower from 164 cubic inches

The engine pictured here is the property of Harold Miller, a member of Columbia Basin Corvairs, a club in Richland, Washington. Harold obviously maintains one of the cleanest turbo engines on the planet. Lookin' good!
The 180 turbo came off the assembly line with chrome plated induction tube, fuel and oil lines and air cleaner. Internals included super-alloy exhaust valves, with exhaust valve guides designed for exceptional heat dissipation, and high-alloy, aluminized-face intake valves for improved durability.
One the next page, we take a look at a recently rebuilt turbo 180 engine and examine the origins of turbocharging.

Select from the navigation bar!