Monza Spyder
The first generation, "Ralph Nader" Corvair
The first generation Corvair had a swing-axle rear suspension similar to that of the Volkswagen beetle. Critics maintained that the design was inherently unstable. They charged that under certain conditions in hard cornering, the outside rear wheel had a tendency to tuck under the car, sometimes resulting in roll-over.

The results of a federal study released in 1972, three years after Corvair production ended, concluded that the Corvair was safe. The National Highway Traffic Safety Administration (NHTSA) exonerated the Corvair.
Chevrolet began improving the Corvair's suspension in 1962. By 1964, engineers added a transverse camber-compensating spring, much improving the handling over previous years' models.
Meanwhile, as Chevrolet worked toward the introduction of the second generation Corvair for the 1965 model year, it was determined a new Corvette-style rear suspension would replace the early design. The result was a Corvair with superb stability and cornering ability.

1964 Monza Spyder convertible

The black '64 is owned by Holland's Ad Dijkstra. During the Sixties, many Corvairs crossed the Atlantic with Canadian or American armed forces personnel. Others were actually assembled in Antwerp, Belgium.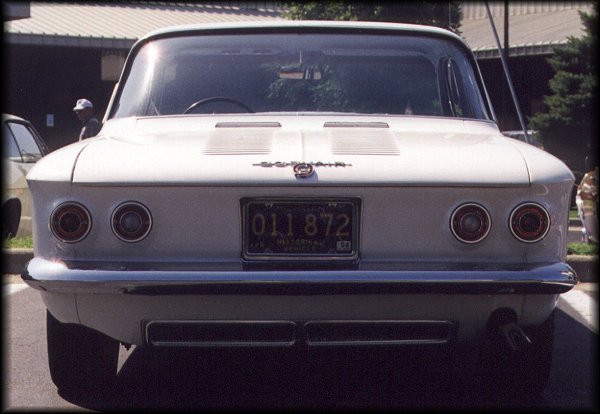 1964 Monza Spyder club coupe
That big round "Turbo-charged" emblem on the deck lid and the beefy tailpipe let you know this is a Spyder. This club coupe was snapped at the Detroit Area Corvair Club (D.A.C.C.) Corvair Homecoming in August, 1998. An extensive feature on this event can be seen near the end of the Extra! section.
Click the road sign for more on the early model Corvair.

Select from the navigation bar!