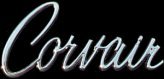 1965 and 1966 Corvair brochure photos
The Corsa on the cover of the brochure for the 1965 Corvair is almost identical to the one my father bought. Instead of the all black interior shown here, his had a white on black interior consisting of black dash, carpet and upper interior door and rear quarter trim, with white seats and door panels. A picture of his car, taken in '65, can be seen in the About this site section of this site.
I stared at this image a lot while we waited for delivery. It's interesting to note that the factory applied, black paint pin-stripe just below the belt-line does not appear on some versions of the 1965 brochure. According to several members of the Corvair Internet discussion group, Virtual Vairs, the stripe was standard equipment on the '65 Corsa, but early versions of the U.S. brochure did not display it because the booklet was printed before a final decision was made by General Motors to include the stripe on the '65. A revised brochure (R-1) was later issued, and included the stripe. According to Corvair literature expert, Dave Newell of Chevrobilia, there was only one version of the Canadian brochure, and it had the pin-stripe. Dave can be reached by e-mail at: chevrobilia@california.net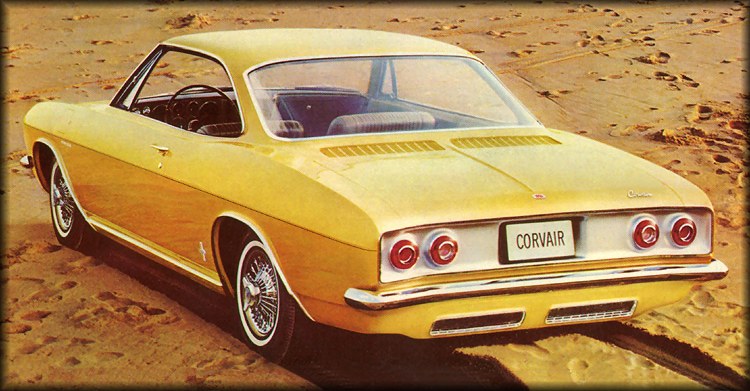 1965 Corsa Sport Coupe in Crocus Yellow
Below, the cover shot from the '66 Corvair brochure. Notice the re-worked tail and backup light lenses and the different under-bumper grill treatment.
Other changes for '66 included the addition of an air damn under the front of the car, the movement of the Corvair emblem from the trunk lid to the front valance, re-designed Corvair "wings" between the headlights, re-worked (leaner) wheel arch and rocker panel trim, and different engine identification emblems for the rear deck-lid.

1966 Corsa Sport Coupe in Madeira Maroon
Click the road sign for more.

Select from the navigation bar!