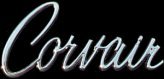 Corvair Cutaway Views and Production Figures
The late model Corvair was a pretty efficient package! At 183.3 inches long on a 108 inch wheelbase, the car provided approximately 13 cubic feet of trunk space in the front and additional storage space with a fold-down rear seat. The battery and spare tire were placed in the engine compartment, aiding traction.
Suspension was fully independent. Unlike earlier Corvairs, which employed the swing axle rear suspension design criticized by consumer advocate Ralph Nader, the '65 and later models used an articulated link suspension with dual jointed half-shafts similar to that of the Corvette or E-type Jaguar.

1965 Corvair Corsa cutaway view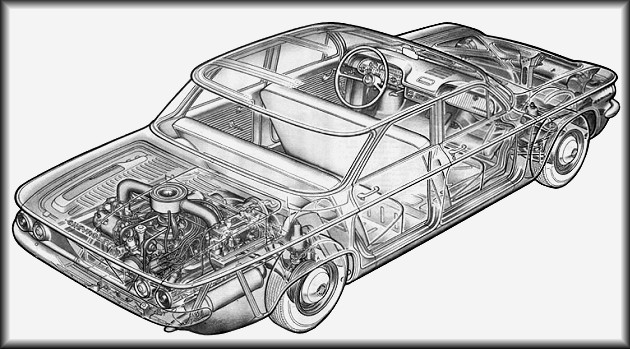 1960 Corvair sedan cutaway view
In some early Corvairs, particularly 1960 and 1961 models, hard cornering with under-inflated rear tires could cause the outer rear wheel to arc or tuck under the car, resulting in severe oversteer. The factory rear shock absorbers were designed to limit the amount of rear wheel downward travel. Thus the shocks prevented this so called tuck-under from occurring to a point of causing instability.
In the late model, the rear suspension redesign kept the rear wheels in a near true vertical attitude under virtually all cornering conditions, making the Corvair one of the best handling cars produced in North America. Oversteer still existed because more than 60% of the car's weight was over the rear wheels, but was much more predictable. The rear of the car would always break away before the front, facilitating controlled four wheel drifts!
Chevrolet built close to 1.8 million Corvairs during its ten year production run. Click the road sign to see U.S. and Canadian production figures for the different series of Corvairs.

Select from the navigation bar!