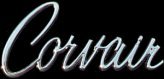 1965 and 1966 Corsa interior
Driving the Corsa in 1965 was pure pleasure. The first thing you noticed after turning the ignition key was the tuned exhaust note; whether you were driving the 140 with its dual pipes, or the 180 with its large single exhaust.

Power steering was not available, or needed. The rear engine design placed only about 40% of the car's weight on the front wheels, resulting in effortless steering under most driving conditions.
| | |
| --- | --- |
| The Corsa was equipped with a tach, manifold pressure gauge, cylinder head temperature gauge, 140 MPH speedometer with trip odometer, fuel gauge and clock. A two-stage idiot light and buzzer system alerted the driver in the event of an engine overheat condition. | |
| | |
| --- | --- |
| | Both the clutch pedal and stick shift were short throw designs. Stick travel between first and second gear was less than three inches, perfect for speed shifting. Launching aggressively would pull the front of the car to the extent of its suspension travel and cause the rear of the car to squat on its Corvette-style multi-link rear suspension and "plant" the tires, resulting in a quick and strong leap from a standing start. I was surprised to discover that a well executed launch had the potential to pull one—and sometimes both— front wheels from the ground! |
At the red-line, the 140 horsepower, 4-carburetor model would easily bark its tires on the changes to second and third gears and would occasionally produce a chirp on the change to fourth. While the Corsa didn't exhibit brute strength, its excellent off-the-line performance surprised a few muscle car jocks.
| | |
| --- | --- |
| The picture of the '66 Corsa interior at right shows the standard steering wheel preferred by some because of its horn ring. This car is also equipped with the available 4-speed stick replacing the standard 3-speed manual transmission. The Corsa series, like the early model Monza Spyder, was not available with the Powerglide automatic transmission. Some Corvair experts believe this was because performance of the turbo-charged Corsas and Spyders could not be optimized with the turbo engine mated to the 2-speed automatic transmission. | |
Click the road sign for more on the Corvair interior.

Select from the navigation bar!