Standard equipment on the Corvair Corsa and available at extra cost on both the Monza and Corvair 500 series, the 140 engine (140 HP @ 5200 RPM) was fitted with a normally aspirated induction system with four individual single-barrel Rochester carburetors breathing through a dual-snorkel air-cleaner.
The engine also featured high performance cylinder heads (yielding a higher compression ratio) and discrete dual exhaust (no crossover pipe). It's interesting to note that the 140 horsepower engine, when mated to the Powerglide transmission, used the same camshaft at the 95 hp engine, and when mated to a manual transmission, it was equipped with the same cam as the 110 hp engine. When ordering the 140 in a Corsa with a 4-speed manual transmission, you also got a short-throw shifter.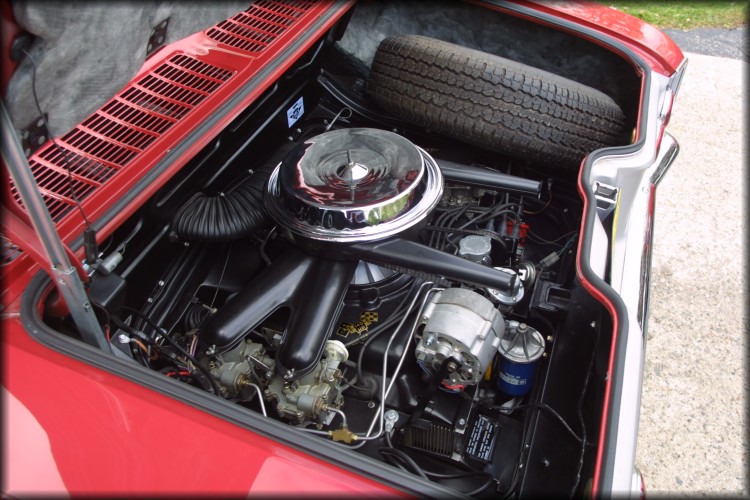 140 HP, air-cooled, 6 cylinder engine
| | |
| --- | --- |
| | Of course, we'd never condone stoplight racing, but it's a fact, in the mid-60s, the combination of a 2400 pound Corvair with a properly set up 140 could easily get the jump on a wheel-spinning muscle car at the lights. This was due to excellent weight transfer to the rear wheels. |
| | |
| --- | --- |
| This is a top view of the Corvair engine showing the horizontally-opposed array of cylinders flanking the crankcase. All Corvair engines use the same firing order. The number one cylinder is the one closest to the distributor (D) on the passenger side of the car; handy information to have at hand if you do your own tune-ups. | |
Over the years the 140 Corvair engine has picked up somewhat of a reputation for dropped valve seats. Corvair cylinder heads are aluminum, so the seats, which have to be of a harder material, are pressed in.
According the Bob Galli, of the Virtual 'Vairs (VV) Internet e-mail discussion group, using valve seats that are stepped on the outside diameter (OD) might be a sure cure for 140s. They were recommended to him by Corvair engine guru Richard Finch. A company that makes custom stepped valve seats is the Tucker Valve Seat Company. Contact information is at right.

Tucker Valve Seat Company
Toll free; USA: 1-800-362-7321
Toll free; Canada: 1-800-367-7321
Web site: http://www.tuckervalveseat.com/
Another knowledgeable contributor to Virtual 'Vairs, Ed Corson of Corson's Classic Corvairs, believes a permanent fix for dropped valve seats involves taking your heads to a good aluminum head shop to have all the valve seats replaced with deep seats, and he points out that these same seats are used in Porsche heads and some VW heads.
Ed recommends the shop listed at right, one which he's been doing business with for at least 23 years.

According to Ed, Fumio Fukaya arrived at California's Riverside Race Track about 30 years ago with a Japanese race team that raced a car with an all aluminum engine. When the team folded, he opened a shop in Riverside, where he would build/repair only aluminum head engines.

"He is so good and well known around the country and in racing circles," Ed told me, "that heads are sent to him for repair or remanufacture from all over the U.S. and Canada. I feel very fortunate to be located here where I was able to learn of him and get to know him. We have become very good friends and business acquaintances. I highly recommend him for Corvair heads. You can call him or send heads to him at the address and number listed, or if you would rather send them through me, contact me at Corson's Classic Corvairs."

Fumio Fukaya Enterprises
4000 Alamo Street
Riverside, CA 92501

Tel: (909) 784-1251

Corson's Classic Corvairs
16953 Mockingbird Canyon Rd,
Riverside, CA 92504

Tel: (909) 780-7880

E-mail: EUGENE1938@aol.com
"A set of heads usually takes about 3 weeks to be completely redone with new deep seats and silicon/bronze valve guides. I recommend you disassemble the heads and clean them yourself, which will save you about $50.00. I also recommend that you not send him your valves, but replace them with new ones. After all if you are going to put that much effort into a set of heads you might just as well do it right."
The Virtual Vairs e-mail discussion group may be accessed in the Links area of this site, under the heading "Corvairs Clubs/Organizations."
Click the road sign for more.

Select from the navigation bar!