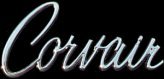 Tyler Sapp's Nebraska '66 Monza
| | |
| --- | --- |
| | While living in Indianapolis, Tyler Sapp made an exciting discovery. He found a '66 Monza convertible that had been in storage for 15 years, and was for sale. Its original owner put it into a barn with several other Corvairs around 1978, where it remained for ten years before it was purchased by its second owner in 1988. The car spent the next 5 years in a garage, waiting to be rescued and returned to the streets and highways of America. |
When Tyler became the Monza's third owner, in September of 1993, the only thing working on the car was the electrical system. According to Tyler, everything else was "frozen up."
The lonely convertible was well equipped with options that included a 140 horsepower engine and 4-speed transmission, remote driver's side mirror, clock, push button AM radio, tinted windshield, and bumper guards, so Tyler took it home and began what would turn out to be a five year restoration project. He could have done it faster, but was on the road a lot during the week at the time, and needed to devote much of his weekend to activities with the kids.

That's Tyler's son, Brian, behind the wheel, checking out the newly acquired '66. Corvair fanatics will instantly recognize the full wheel covers as '65 vintage, but don't let that confuse you. The car is a '66.
While we don't have any pictures of the restoration work in progress, the results are clearly first class. This shot of the engine bay proves it, and gives a clue to the color change we'll see more of on the following pages.

A Chevy dealer helped rebuild the engine, and this 140 is very close to pure stock in appearance, with the exception of the air cleaner lid, which was chrome when it left the factory.

Tyler did the rest of the mechanical work himself.
Almost all the parts he needed for the restoration were purchased from a Corvair parts vendor, with the exception of some original pieces bought from a collector who had a building full of Corvair parts in Kearney, Nebraska.
Once the parts-finding expedition was complete, the car was taken to a body shop for body work and paint, and to an upholstery shop for interior work and a new top.
Click the road sign to continue.

Select from the navigation bar!