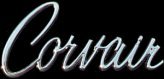 Let's get Shorty!
Corvair detectives!

Time for a little fun! Site visitor Mike Harrison took some time out from his current restoration project, a '65 turbo Corsa convertible, and sent these pictures along with a challenge: "Get Shorty!"

He's asking us to determine whether or not this car still exists. Apparently the photos were taken in the early '70s, and the last known location of the car was Michigan.
We don't know much about this shortened '65 at this point; not even the wheelbase measurement! So, the call goes out to all members of the Corvair Society of America (CORSA), the Virtual 'Vairs free Internet e-mail discussion group, and all other 'vair heads around the world. Let's get Shorty!

Please forward all leads to Mike Harrison at: Mi31147@aol.com

Thanks, and happy hunting!

Select from the navigation bar!