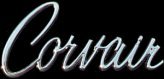 Mike Petrilla's turbocharged Corsa coupe
When someone writes and tells me they are restoring a '65 Corsa I am always hopeful they are sufficiently committed to the project and have the resources to see it through. Perhaps selfishly, I also hope that when completed, the restored vehicle will be of special interest to visitors of this web site. Mike Petrilla's Corsa is an impeccably restored original with a carefully executed Weber carburetor-based twist in the engine compartment. Let's spend a few minutes with his descriptive story appearing below in white text, and the excellent accompanying pictures. Mike, you're in the driver's seat!
I have just completed a 4 year ground-up restoration of my 1965 Corsa turbo coupe (much to my wife's delight - now she can put me to work around the house again!). I have worked on cars (Corvairs included) all my adult life but this was my first true restoration project. I can now fully appreciate the time, money, and patience required to restore a car. It has taken a lot more time, a lot more money, and a lot more patience than I ever anticipated to complete this project. But I believe the effort was worth it, as I now can enjoy driving and showing this unique automobile.
Growing up, a Corvair was always in the family since my father was a big fan of the Corvair. He was always working on, and modifying, his Corvairs (he installed one of the first 4-carb kits in the early sixties). Between the two of us, we have owned every model except an Ultra Van. I sold my last Corvair before going into the Navy and got married when I got out, and the years clicked swiftly by before I started to think about Corvairs again. About 5 years ago I started thinking about a '65 turbo my father had owned. I remembered looking into the engine compartment and thinking about the magic that turbo made. I decided that the next Corvair I owned would be a turbo and would be the nicest Corvair I had owned.
Click the road sign for more.

Select from the navigation bar!