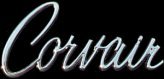 Marcel, Manuela, and a Corvair named Angelita
Informed forced-induction aficionados know that an exhaust-driven supercharger first appeared on the Corvair as a regular production option midway through the 1962 model year. Chevrolet called it a turbo-charger, and made it available only on Monza-series cars as the central component of the impressively sporty Monza Spyder option package. It was an instant hit with enthusiasts.
By 1965, the turbo-charged Corvair engine was well proven, and had grown from a displacement of 145 to 164 cubic inches (2.7 liters). Rated horsepower had increased from 150 to 180 horsepower. The beefed up engine was offered on only one late model Corvair, the newly released top-of-the-line Corsa. This is the story of one such Corsa, its proud history, and its restoration by a current day Corvair lover.
When Marcel found his 4-wheeled sweetheart, she was severely neglected; paint blistering, engine not running, gear box broken, interior torn up, tires flat. She was sad and lonely, but her prince had arrived.
Angelita is a Corvair?

Angelita was so-named by Manuela, her new owner's main squeeze. Manuela couldn't help but notice when her husband, Marcel, began spending more and more hours with his new-found love, his turbo-charged Corvair. This was not a problem, because Manuela is supportive of Marcel's hobby and shares his enthusiasm for and appreciation of this fine rear engine example of automotive history.

Angelita's Vehicle Identification Number (VIN) reveals her to be a 1965 Corsa 2-door coupe, the 120,047th Corvair built that year at the Willow Run General Motors assembly plant, near Detroit, Michigan. Unlike her many thousands of siblings, she was not destined for the streets and highways of America. She soon found herself on the high seas of the North Atlantic, sailing toward endless adventure in the Alpine splendor of storybook Switzerland.
The newly minted Corvair was imported by GM Switzerland in Biel. At the time, they were working with a specialist in steel sunroofs, and had one installed on the Corsa before it was delivered to its first owner, Werner Wihler, on the 1st of May, 1965. Later, it changed hands and was kept for about 10 years by a Mr. Kreuzwirth before he passed it on to his son, Peter, who owned it for about 15 years. After Peter, the turbo-coupe became the property of local television personality Philip Stirnemann, star of Game City on Star TV. Shortly thereafter, Lady Angelita lost her luster and languished in the wings until she was rediscovered.
| | |
| --- | --- |
| The picture at the right shows Angelita's sunroof in its pre-restoration state. Below, a photo of the restored car lets us see how slickly the sunroof blends into the car's otherwise stock-appearing roof contour. | |
The restored Angelita is undeniably beautiful. Her body panels are meticulously fitted, and her dark, custom blended, metallic green paint gleams. Her long, lean Swiss license plate accentuates her cat-like stance. She stands perfectly poised and sure footed on larger-than-stock 14-inch alloy wheels and Yokohama tires, 225/60R14 at the front, and 245/60R14 at the rear. Not readily noticeable is the subtle modification of the inner lip of the front wheel arches necessary for proper tire clearance.
In other restoration pictures to come, we'll examine some other non-stock touches including an adjustable driver's seat back, headrests, and some locally required lighting changes. Note the turn signals are clear, not amber, as required on Corvairs delivered within the United States and Canada.
Click the road sign for more.

Select from the navigation bar!