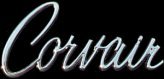 A Mixed Bag of Corvairs
| | |
| --- | --- |
| Not all Corvair owners think alike. While some take great pleasure in preserving the pure stock appearance and original performance characteristics of their cars, others tailor theirs to specific purposes. The example at right, Scott Seversin's late model coupe, was photographed running the autocross at the 1999 CORSA convention. Obviously, to Scott, a custom wheel/tire combination is preferred over the stock rims and bias-ply tires. The headlight bezels are keyed to the body color for a distinctive appearance, and the front bumper is removed, probably to trim weight. | |
| | |
| --- | --- |
| Full on race cars like this late model owned by Buck Jones of the San Francisco Bay area are more highly modified. The power train is tweaked, the suspension is tuned for racing, the interior is gutted and reinforced with a roll cage, and all trim and the windshield wipers are removed to save weight and clean up the aerodynamics. A purist's nightmare is a racer's delight! | |
At right, a couple of shots of the relatively rare Devin C (C for "Corvair powered"), created by William (Bill) Devin. It's a very quick little sports car. Bill's website describes the Devin C this way: "An extremely light but rugged sports roadster using the popular Chevrolet Corvair six cylinder engine and power train, the Devin C goes from 0 to 60 mph (0 to 96.6 kilometers per hour) in less than 4 seconds and has a top speed in excess of 150 mph (241 kph)."

The Devin is also capable of running the standing-start quarter-mile (402.3 meters) in 15 seconds @ 105 mph (169 kph), and as we can see from the autocross picture, exhibits excellent cornering ability.

More information on the Devin C and Bill Devin's other impressive creations is available on Bill's website, listed in the Links section of this site, under the category Other & Special Interest. It's well worth the visit to learn more about a man who started building sports cars in 1954 and specialized in fiberglass bodies as early as 1949!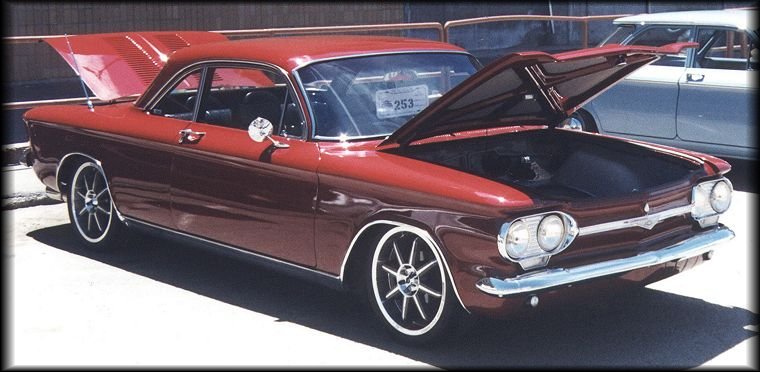 Above, a wild looking '64 club coupe also photographed at the 1999 CORSA convention, where it ran in SM at the autocross and Modified in the Concours. Owned by Greg Peterson of Long Beach, CA, the Monza is equipped with a tricked-out 140 engine and gets its radical appearance from its spider-like, 17-inch diameter Competitive Motion wheels and extremely low profile 205-40 17" tires.
Joel Rushworth of Western Canada Corsa saw the car at the Great Western Fan Belt Toss & Swap Meet in Palm Springs, CA, and describes the front disk brake conversion (from a Dodge Colt) as "a handy bit of custom fabrication." He added, "Greg kicked some serious butt in the autocross at Tahoe in this car. It definitely has the go to match the show."
Click the road sign for more.

Select from the navigation bar!