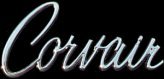 Larry Claypool's home-spun Corv-8 conversion
Anyone who spends time in the Virtual Vairs Internet Corvair discussion group can tell you Larry Claypool is among its most active participants. Practically on a daily basis, Larry offers free technical advice to Corvair owners and enthusiasts all over the world. Whether the questions relate to how to change the pushrod tube O-rings on the stock flat-six without pulling the cylinder heads, or the procedure to follow to correctly install an electrical accessory, Larry freely offers his expertise to fellow enthusiasts. In his own pursuits, however, he strays from the beaten path.
Witness Larry's '66 Monza Sport Coupe. As you view this vehicle, with its custom rear quarter-panels and widened rear track, you realize there's something special going on. Beneath the skin of this Aztec Bronze beauty, there lurks the running gear of an Oldsmobile Toronado!
Built to stock 1966/67 specifications, the 385 horsepower, 425 cu. in. engine is longitudinally mounted (as opposed to transverse-mounted). Power is routed through a Vari-pitch Hydramatic transmission to 3.21:1 final drive gears. The combination propels the car to 13 second quarter-mile times at over 100 mph. When you consider the converted weight of the car grew to just over 3,500 pounds, a thousand pounds heavier than a stock Monza, that's quite amazing!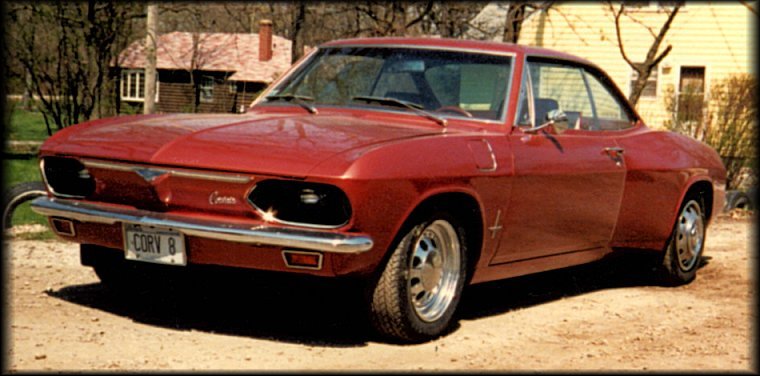 To cool the big Oldsmobile engine, Larry modified the stock headlamp treatment by sinking the stock headlamp sub-assemblies to the inner fenders, doing away with the headlamp buckets and bezels. Cooling air enters the openings where the buckets once were, where it is directed to a trunk-mounted big block Chevy radiator with air-conditioning capacity.
The area around the radiator is completely sealed off from the main part of the trunk. This creates a high pressure area in front of the rad when the car is in motion. Electric fans mounted behind the radiator draw air into the low pressure side and help exhaust it through exit vents cut into the inner fender wells in a manner similar to that illustrated in the Corv-8 section of this site.
Water delivery to the front is via a pair of 2" steel pipes, placed where the stock Corvair heater duct would normally run. A stock Toronado air-conditioning water pump moves the coolant and in-car heat is provided by a blower/heater core assembly from a Renault R5 (Le Car).
Click the road sign for more.

Select from the navigation bar!