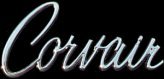 John Gray's '64 club coupe
| | |
| --- | --- |
| | CORSA Ontario member John Gray could see it in his mind's eye; the day would come when the stripped down hulk in his garage would make him proud. He'd bolt in a tweaked late model engine. He'd strap on a helmet and compete in slalom and autocross events. He'd have some fun! |
Corvairs have been a part of John's life since July 1, 1977, when he bought his first. It was a 1965 Monza 4-door sport sedan, which he drove for 2 years before beginning a lengthy series of trades, purchases and sales of various early model coupes, convertibles and sedans, including a 1960 700 4-door.

Along the way, John sold the '64 pictured here to a friend, Frank Polgar. Frank completely disassembled the car and sent in out for body straightening and paint work.
During this period, John would accompany Frank to the body shop to track the car's progress. Not long after the work was completed, Frank's work required him to relocate from Canada to Dallas, TX. Taking the project with him was impractical, so he sold it back to John, who would complete the job.

A couple of years later, in April, 1994, John began reassembly. After a flurry of parts orders and many late nights, he completed the car, licensed it, and started working out the bugs so he could drive it to the CORSA convention in Williamsburg, VA, and compete in the autocross.
Click the road sign for more.

Select from the navigation bar!