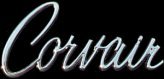 Vintage Corvair Funny Cars
As Corvair production drew to a close in the late Sixties, the sleek late model Corvair body was becoming popular with an emerging breed in drag racing; the funny car. Funny cars, so named because they looked "funny" when compared to their pure stock counterparts, mounted production car bodies over a custom racing chassis. Bodies were stretched and wheel base dimensions were modified. Consequently, wheel openings were moved to improve weight transfer or high speed stability, and often enlarged to accommodate large racing slicks.
The funny car's resemblance to factory models contributed to their early popularity. Not every spectator realized that the funny car shared only its body with the showroom variety. The chassis and running gear were "full race."
Let's look at a collection of supercharged V-8 Corvair funny car pictures.

At right, our first example, the Colorado based Guzman & Ward Assassination Corvair, pops a drag chute as it shuts down.

Photo by R.L."Pete" Garramone
Here's another shot of the Assassination Corvair with a new and better looking paint job.

Guzman & Ward were always a force to contend with as they ran constantly and consistently in the thin air of the Colorado Rockies.

Imagine rolling this one into a burger joint in the late Sixties, open headers and all!

Photo by R.L."Pete" Garramone
Jim Maybeck in his Corvair funny at Detroit Dragway. This car was the successor to the Patriot Chevelle.

At one time, Jim ran the quickest Chevrolet funny in the world. In 1969, he clocked a 7.32 at the Spring Nationals in Bristol.

Photo source unknown.
It's 1968, and "Rapid" Ronnie Runyon smokes the tires in the Blue Hell Corvair. The front end was extended several inches and the rear wheel well was moved forward for reasons previously mentioned.

Photo by Pat Brollier.
Click the road sign for more.

Select from the navigation bar!