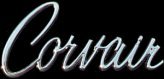 Mike Downey's Turbo Corsa
You could say Mike Downey of Phoenix, Arizona, was "born into" the Corvair hobby. When he was born, his folks owned a brand new, Roman Red 1961 Corvair 700 club coupe, and it was in this car that Mike had his very first automobile ride as he was transported home from the hospital. The '61 was traded in 1965 for a brand new Corsa which Mike's father still owns. It's a twin to the car featured on these pages, but with a 140 engine instead of the turbocharged 180.

At 15, Mike took his first turn behind the wheel of a car, and that too was in a Corvair; his sister's '66 Monza sport coupe, a car he describes as "indestructible." So, it's fair to say we've found another individual seriously smitten by the Corvair bug.
| | |
| --- | --- |
| In 1980, while Mike was a Junior in high school, he bagged groceries and saved the $900 he needed to purchase the '65 turbo coupe at right. At the time, he says, it didn't look like it does now. It was painted the wrong color (silver), had missing parts, a 110 engine had been installed, the headliner was hanging down, and it needed quite a bit of work just to make it roadworthy. However, it was his first car, and after getting it home, he sat in it thinking, "It's Mine!" | |
He drove it and tinkered with it, repainted it, added performance and comfort goodies, a stereo and velour seats. The car did noble duty in Flagstaff, (driven in snow but with no salt) during his college years.
By 1985, the Corsa earned "cover girl" status, appearing on both the front and back covers of the July, 1985 edition of the Corvair Society of America (CORSA) publication, CORSA Communiqué. At the time, Mike had graduated college and moved to Phoenix, where he used the car as a daily driver to work.

The picture at right is of the 110 engine removed from the car "in the beginning." It gives us a pretty good idea of the amount of "tinkering" Mike had to do to restore the car to its stock 180-bhp, turbocharged configuration, as seen in the picture below.
Using all stock components, Mike blueprinted the block and 180 heads, bored the cylinder jugs to .030 over, and balanced the pistons (forged with moly rings), rods, crank and clutch. He installed a hot riveted flywheel from Dave Palmer, Otto valve covers and a Clark's aluminum oil pan. He later reverted to stock valve covers and pan for the 1996 CORSA convention.

Mike notes that this engine doesn't "like" the heat of Phoenix summers, but in cooler weather (60º Fahrenheit), it is capable of propelling the Corsa to 0-60 mph (0-96.56 kph) times in the sub 10-second range. Its real strength, however, is on the open road.
Click the road sign for more.

Select from the navigation bar!