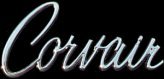 Canadian-built 1966 Corvair Monza
| | |
| --- | --- |
| | Bordering the eastern flank of Canada's Rocky Mountains, the province of Alberta is known as Wild Rose Country. One of three Prairie Provinces, it boasts bountiful natural resources, a strong growth rate and a relatively salt free environment for vintage Canadian-built Corvairs like the Aztec Bronze example below. |
This is one of 2,518 Monza coupes built at Canada's Oshawa, Ontario, GM plant for the '66 model year. Compare that number to the 37,605 that came out of plants in the United States and you'll find that American production was 15 times greater. Of course, this is not surprising when you consider Canada's population was 1/10th that of the U.S.

Outwardly, there are no blatantly obvious differences between Canadian and American-built Corvairs. However, a close inspection uncovers a few qualities unique to the cars built north of the 49th parallel.

Let's take a look.
Popping the trunk lid provides our first clue. If this were an American car, we'd find a spackled finish covering the interior of the trunk. Canadian builders opted for body color (spelled "colour" in Canada). I admit I don't know why, but let's speculate it was either less expensive to do it this way, or faster, as you wouldn't have to mask the area off or be concerned with over-spray.

This well preserved '66 retains the original single channel brake master cylinder. Dual master cylinders appeared on 1967 and later Corvairs.
Engine options were the same in both countries. Choices consisted of 95 and 110 horsepower Turbo-Air, dual carburetor engines, the 4 carburetor 140 hp special performance engine and the 180 horsepower turbo-charged special high performance engine available only on the Corsa model. This car is equipped with the 140, often referred to as a Corsa engine because it served as the base engine in that series.

The standard air cleaner for the 140 engine was a dual snorkel unit, as displayed in the 4 Carbs section of this site. This '66 Monza is equipped with the optional RPO K47 pre-oil bath canister seen in the foreground of the picture.

Following the paint scheme established in the trunk area, this Canadian Corvair's engine compartment is body colored. I like the contrast it sets up, and how it makes the engine more visible, particularly on lighter colored cars.
Click the road sign for more.

Select from the navigation bar!