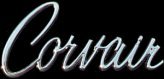 John "Buck" Burkett's Monzilla - a Buick-powered 500
John Burkett sent these pictures of his late model Corvair 500 just as he was in the shakedown phase of the build. John's involved in NASCAR racing (America's favorite spectator sport), and it takes up most his his available time and energy.

However, in 1996, when a rules change allowed V-8 engines to replace V-6 engines in Busch Grand National cars, an available orphaned V-6 was looking for a home. John and his team owner decided to "slide it into the back seat" of this Corvair 500 sport coupe they "dragged out of the woods and completely gutted.
The car sat in a corner of the team shop for some time before John caught his team owner "in a weak moment" and convinced him to sell him the car.

Over the next year, and in his spare time, he fabricated parts and made the 500 roadworthy enough to drive home, only to disassemble it again before completing, painting and detailing it. That phase was completed just in time for the Charlotte Auto Fair, in early April, '99.
This is one fine looking 500. Its custom nose sports blacked out trim, a ground scraping air dam and rectangular NASCAR style fresh air intake and functional air exhaust louvers in the front fenders.

The competition theme continues over the car and onto the rear deck lid with its dual racing stripes. Large dual exhaust pipes exit through openings cut, turbo style, into the areas on either side of the stock air exhaust grill under the rear bumper.
While John intended the Corvair to be a driver and racer, not a show car, he's justifiably proud of the results of his efforts, especially when you consider it was a "fairly low budget exercise, started on a whim."

At right, the photo shows the relationship between the front seat backs and the fabricated superstructure that forms a firewall and roll cage. The use of a V-6 yields more leg room for the driver and passenger than a V-8 would, particularly with the Crown conversion set-up chosen for the job. If you'd like a closer look at the Crown installation, see the Corv-8 section of this site.
This picture shows the engine cover, which consists of 3 .060-inch thick aluminum panels attached with cam-locs for quick removal.

Protruding through the center panel and sealing to it is a 14" Moroso air cleaner, effectively keeping heated air out of the carb.
A sealed air box mounts atop the center panel, covering the air cleaner assembly and drawing intake air through 4 large holes cut out of the metal panel behind the package shelf to the plenum just behind the rear window. This provides a source of clean air for the engine, and cuts down on interior noise.
Click the road sign for more.

Select from the navigation bar!