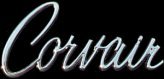 Jeff Brekke's Buick-powered '65
There's a lot to be said for the lightweight aluminum Corvair flat-six. Its robust crankcase is capable of handling turbo-charged outputs of up to 300 bhp. The horizontally-opposed configuration keeps the engine's center of gravity close to the ground, and its air-cooled design eliminates coolant hassles. For some, however, the desire to improve on the factory design leads to creative engine swapping, as we've seen elsewhere on this site. From John Burkett's NASCAR-prepared, Buick-powered, Crown style mid-engine Corvair 500 to Rick Norris' awesome small-block Chevy powered Corv-8 project; from Larry Claypool's Oldsmobile powered late model to Jay Eitel's front engine Jaguar V-12 motivated Monza, we've seen some excellent examples of radical re-engineering exercises. This time, we take a look at another creative approach to hot rodding the Corvair; a reverse-rotation Buick V-6 mounted in the rear.
If you see a bottom breathing Corvair like the one at right, it's certain to be a water pumper, capable of higher power outputs than are customarily associated with the Corvair.

This is the '65 Corsa owned by Jeff Brekke of Lakeland, Florida, captured at its best by the first president of the Corvair Society of America (CORSA), Rick Norris, during one of his many research jaunts to Corvair gatherings across America. He was impressed!
In fact, Rick was so impressed with Brekke's workmanship that he says it inspired him toward the attention-to-detail he's currently putting into his mid-engine project, seen in the Corv-8 section of this site.
| | |
| --- | --- |
| Jeff Brekke's approach to pumping up the power is interesting. He used an even-fire, mid-80s Buick V-6, adapted to the Corvair transaxle. The combination includes a radiator and plumbing and increases overall weight, but front/rear weight bias of the car is not significantly altered, and handling is what you'd expect from the late model Corvair; excellent at any speed! | |

Brekke's '65 makes an art of subtle customization. The clean lines of the sport coupe are unbroken. At the front, Jeff added a tasteful air dam which he fabricated out of Fiberglas and which he produces for both conventional and water-pumper Corvairs. The rear wing is from a Pontiac Firebird with the droop tips cut to match the quarter panel edges. Sport mirrors replace the less aerodynamic optional stock chrome units and a medium tint on the greenhouse glass is complimented by blacked out trim on the rear quarter windows. Jeff also removed the Corsa emblems from the front fenders and the trim from the rocker panels. The segmented wheel arch trim of the '65 was replaced with less massive, one piece '66-69 model equivalents. Completing the silhouette of this outstanding machine are 15 x 7" Progressive Custom Wheels with 4-inch backspacing and low profile Firehawk tires; 195 60 R15/front and 215 60 R15/rear.
Click the road sign for more.

Select from the navigation bar!