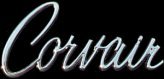 Rusty's Kelmark V-8 'vair
The unique front end treatment on this '65 Corvair Corsa is a dead giveaway. There's a radiator in the trunk. Air intake is through the 4 grill slots and the opening above the chin spoiler.

There's also a 350 Chevy small-block in the back seat, or I should say, where the back seat once was. This is a Kelmark conversion, a Chevy V-8 mounted amidships and mated to a turned Corvair trans-axle.

This is how the car was set up when it was purchased by Russ Brandenburg. The photo of Russ and his car was taken in 1996. He later sold the car to an enthusiast in Florida who repainted it red.
Obviously built for speed, this late model incorporates a beefy roll cage (for show only), stout "dogleg" Kelmark shifter, and an array of Autometer gauges to augment the full Corsa cluster in the dashboard. The stock Corsa tachometer's range of 6000 RPM was obviously too limiting, and it's a good bet that the140 MPH speedometer has moved higher up the range than it ever did in its stock engine days.

Other non-stock items? A Neal gas pedal, a Grant wood rimmed steering wheel, leather trimmed '75 Chevy Monza buckets, '66 door panels, painted sill trim and a Plexiglas divider between the engine and passenger compartments.
The pair of toggle switches below the headlight and wiper control knobs are for cooling fan over-ride and to turn on a pair of driving lights mounted in the engine compartment for night lighting. Russ says he got a big kick out of cruising around at night and turning the lights on at stop lights to see the reaction of people who knew what they were looking at. Let's take a look.
Click the road sign for more.

Select from the navigation bar!