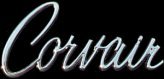 Ron & Doris Blachut's 1966 Corsa
In 1966, Ron Blachut was in the U.S. Army and stationed in Fort Rucker, Alabama. Since it was the time of the big draft and build-up of troops going to Vietnam, it was hard to get a ticket to go home on leave. There were lots of troops competing for available seats. He was drafted in July and hadn't been home for five months. At Christmas, which was the earliest he could get leave, all planes, trains and buses were booked. Ron had a problem.

Ron's girlfriend, Doris, also had a problem. She needed a car. As the old adage goes—problems come in threes—and it turned out one of Ron's army buddies needed some cash. So, for the sum of $600, Ron bought his friend's Palomar Red 1964 Monza club coupe for Doris, and in a flash, was homeward bound to his family and his honey.
Ron and Doris kept the '64 coupe for three years, during which time it served them well. They put some work into the car too. At right, we see Ron in 1968, sanding the Monza in preparation for a new paint job. At the far right, Doris displays her bandaged hands after overdoing it with the sandpaper while helping Ron.

In 1969 they bought a new Malibu and Ron says they forgot about the Corvair.
That is... until the year 2000, when Ron retired in his mid-fifties and he and Doris moved to the Adirondack Mountains of New York. There, he discovered he needed a hobby to keep him busy during the long winters. He started thinking about the cars of his youth—cars that he either owned or had great memories riding in—cars that friends owned and had fun times riding in. He didn't want a muscle car or anything full-sized. It had to be relatively inexpensive and a convertible. He had never owned a ragtop because it was impractical as a commuter vehicle, and he first started looking for Falcons and Comets from the mid-sixties. His research led him to the World Wide Web, where he read all about Falcons, Comets and Corvairs. After a couple days of intense surfing on the Internet, he decided on a Corvair. He searched for a '64 Spyder because of his previous experience with the '64 Monza, and because he believed it to be the best of the early models.
He soon found one and bought it over the Internet. When it was delivered, he discovered it was junk, so he parted it out and negotiated a decent refund from the seller. He'd learned a valuable lesson—ask more questions next time—and decided to take a second shot at finding a good Corvair. A couple of months later he bought another '64 Spyder. It had a solid body and was 99% complete, but it needed a total restoration. It was then he heard about the car that is the subject of this feature article. The car was located just a few miles from the Blachut's home. He'd been doing a lot of research on Corvairs, and he had concluded he had to have a '66 Corsa convertible! He and Doris drove to see it and were totally smitten. It was drop-dead beautiful.

The owner had invested over twelve thousand dollars in NOS parts. He rebuilt the Positraction rear axle, the 4-speed transmission and the engine. He also rebuilt the rear suspension, brakes, shift linkage and replaced all the chrome and trim with NOS parts and fitted the car with an NOS AM radio and gauges, including a new clock.

Five years earlier, the body had been repaired and repainted in its original color, Tropic Turquoise. The top was original as was all of the interior except the front seat fabric and the carpeting. All of the interior chrome was replaced with NOS pieces. In effect, the car was like new!
Click the road sign for more.

Select from the navigation bar!