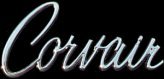 Corvairs at Blackhawk 2001
Blackhawk Farms Raceway is a 1.95 mile road course in Rockton, Illinois, just minutes from the Wisconsin border and about an hour from the site of the 2001 Corvair Society of America (CORSA) International Convention in St. Charles, IL. Many of the Corvair performance enthusiasts attending the convention stopped over at Blackhawk for some fun on the track on July 24th, the day before the start of the convention. It was an impressive gathering of both race-prepared and stock Corvairs, as we'll see on these pages.
| | |
| --- | --- |
| From my home in Canada, it was a 2-day, 15-hour drive to the track, with a stop in Detroit to pick up an old friend, Warren Cosford, who had agreed to play the role of navigator. The trek to Blackhawk was a great opportunity to see and photograph Corvairs in action on a road course, after which we'd join the throngs of Corvair people in St. Charles for the international convention. We arrived at the track on the evening of the 23rd and under the watchful eyes of raceway security, made a slow pass around the track. | |
| | |
| --- | --- |
| | The Blackhawk circuit is a Corvair driver's delight, offering a variety of challenging turns and an ample straightaway. The park like setting of the raceway places spectators on the infield where they can easily visit the pit area and mingle with the racers. It also allows you to safely get close enough to the action to take decent photos without using a high power telephoto lens. Admittedly, a long lens would be ideal, but I had to get by with a 70mm zoom. |
Race day arrived with the sun shining and the temperature rising. It had been 97 degrees (37 degrees C) the previous day, and this day was also shaping up to be a scorcher.

Anyone who has raced in hot weather can appreciate the added strain on a car's cooling system and the discomfort of the driver as the cockpit turns into a sweatbox. Corvair owners are lucky in this regard. Because of the rear engine design of the car, engine heat is behind them.
Click the road sign for more.

Select from the navigation bar!