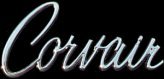 | | |
| --- | --- |
| | Ken Arnold's '63 Rampside |
Georgia's Ken Arnold is a former Delta Airlines systems analyst and a great mechanic who does everything himself, including body work and paint. Ken has raced Corvairs and drag raced a late model coupe with a 215 cu. in. aluminum Buick engine that ran the quarter-mile at high 13s in the mid-90s.

Ken's latest project is a departure from the coupe, but it too, has quarter-mile potential!
That statement might be hard to believe looking at the photo at right. Equipped with an 80-horsepower flat-six engine when it rolled out of the factory, this 1963 Corvair 95 Rampside certainly wasn't intended for the drag strip, although even in the Sixties, similar body styles where loaded up with big blocks and campaigned as wheel-standers. Remember Bill "Maverick" Golden's Little Red Wagon?

This little red wagon won't be spending a lot of time on its rear wheels, but you'll see in the following pages that it won't be doing a lot of service duty either.
When Ken bought the truck, it was basically sound with some rust on the floors and right side; nothing that couldn't be managed.

Part of the management strategy involved this gaping hole, and what was soon to fill it. With Ken's imagination driving the project, the work began. This little truck was going to be a boulevard cruiser with a robust power pack, excellent handling characteristics and serious stopping power.
Just how that was accomplished is the subject of this feature, an all Chevy build, using parts from various Chevy vehicles including the Corvette, Camaro, Chevelle, S-10 pickup and full size pickup. Stay tuned!
Click the road sign for more.

Select from the navigation bar!