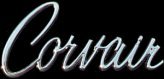 Cars of the V-8 Registry™
The V-8 registry was started by Russ Brandenburg in 1993 with a letter to the Corvair Society of America publication, CORSA Communiqué. It was a call for like minded Corvair folks with a need for speed to write him, and an offer to start a news letter to exchange information and ideas. He got 25 responses, and since then, has seen the registry grow and maintain an average of just under 200 members from all over the world at any one time. Anyone can join. You don't need to have a car. All you need is desire and enthusiasm. Contact information appears on the next page.

This picture of Russ was captured at CORSA's 1998 national convention. He's behind the wheel of another member's car, a racer owned by Harlan Colburn of Littleton, Colorado.
We'll take a good look at Harlan's racer and tell you a little about it in a minute.

The 1998 CORSA convention was plagued by downpours, but Russ dropped the top on his '65 and competed in the Autocross.

His car is powered by a 4-barrel equipped 350 Chevy mated to a big car Powerglide and a 3.27:1 differential with 4-spider posi unit.
Autocrossing goes better with good rubber meeting the track. Tires are B.F. Goodrich COMP T/A, 205/60 front and 215/60 on the rear.
The attractive paint scheme on the car effectively camouflages the water pumper's air intake, located between the front bumper and the spoiler.
Anyone less than familiar with V-8 'vairs should know that the majority of these modified cars, and all the cars in this feature, mount the engine in a longitudinal configuration, ahead of the trans-axle. Naturally, this eliminates the back seat, but does anyone is this group really care?
I sense a certain amount of attitude works well with this bunch. When one member realized certain Classic Corvair enthusiasts considered the owners of modified V-8 Corvairs "rapists," he gave serious thought to making up a tee-shirt inscribed, "Anyone can own a classic Corvair. It takes a real man to cut one up!"
Click the road sign for more.

Select from the navigation bar!