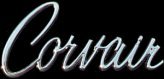 Jay Eitel's V-12 'Jaguair' Corvair
Stock carburetion was discarded in favor of two Buick V-6 fuel injection systems fed by two separate Buick in-tank fuel pumps, two special Buick ignition systems, and a pair of electronic control modules (ECMs) with sensors at both the crank and the overhead camshafts. Some aspects of the conversion were quite difficult; like getting the fuel injection pickups onto the cam sprockets.

The exhaust manifolds shown in the engine dyno picture could not be used in the car. Jay built his own headers, which we'll see later in the feature.
On the dyno, gross torque and horsepower results indicated the modified Jag V-12 was capable of making 370 horsepower @ 5800 rpm, with a wide, flat torque curve reaching a maximum of 380 lb-ft @ 4400 rpm, enough to easily propel the Corvair to 100 mph in the quarter-mile. Click here to see the dyno results graph.

Referring to the picture at right, Jay asked me, "How would you like to sort out this mess?"

Then, as my mind short-circuited at the thought, he informed me the wiring seen in the photo is only for one side; one of the two ECMs.

"Mounting them in the front fenders really made it a lot easier," he added, "I was able to retain all of the Buick color codes, making it possible for any GM dealer to plug into the system and read out all the sensors."
In this picture we see how Jay tamed the wiring nightmare and molded the ECM boxes to fit the fenders. Nice job!

The V-12 had to be set offside approximately 4 inches to clear the Corvair steering gear. Note the large recess in the fender well to provide clearance for the throttle body. A similar recess was also needed on the driver's side, as we'll see later. The former trunk compartment is certainly filled, but all regularly serviced components are within easy reach.
Click the road sign for the more.

Select from the navigation bar!