| | |
| --- | --- |
| Then there's Paul McCreery's Corvair Corsa with its pair of 3-barrel Webers; one carburetor throat for each cylinder! Power output is in the 240 horsepower range. When you consider that's pushing a car that's been shaved to 2200 pounds, we're talking about stellar speed and brisk acceleration! | |
Improved performance can be achieved by modifying the stock four single-barrel Rochester carbs by relocating the main jets to prevent fuel starvation during hard cornering. This approach was used by the venerable Don Yenko on his Yenko Stinger Corvairs, the cars featured in the Yenko section of this site.

The stock four single-barrel set-up can also be rotated to achieve better performance. Rotator kits are available from current day Corvair parts specialists like Clark's Corvair (Links section).

Also still available is a special center-mount manifold and Holley 4-barrel carb set-up.


2 x 3-barrel Weber carburetors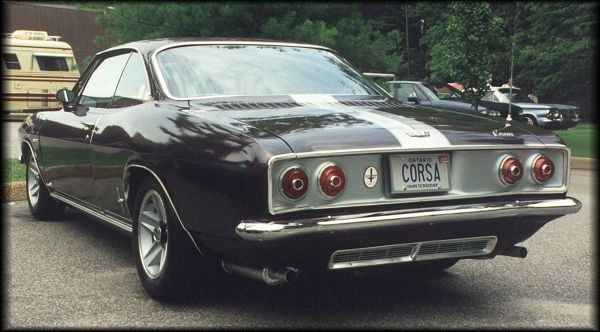 Above, McCreery's 6-cylinder Corsa captured on film by Corvair nut and Corv-8 builder, Rick Norris. The 15" Camaro Z-28 wheels give the car a very slick appearance. The clincher? The Weber-carbureted six is just one of Paul's high performance Corvairs. He owns another, into which he's installed an all aluminum, 250 cubic inch Olds V-8, making 260 horsepower. The V-8 car runs 0-60 MPH in 5.4 seconds and turns the quarter-mile in 13.6 seconds @ 104 MPH. Top speed is in excess of 140 MPH. We hope to have a picture at some point in the future.
Looking for more high performance or modified Corvairs? See either the Corv-8 or Extra! sections of this site.

Select from the navigation bar!