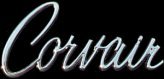 Corvair Paint Colors - 1965 - Canada
These "virtual" paint chips were scanned in 24-bit color from an original paint chip chart. Variations may have been introduced during processing, and further inaccuracies may be displayed by some types of computer monitors. You should consider the color examples approximate.





COLOR ADVISORY SERVICE


G-17
1965
| | | |
| --- | --- | --- |
| 1965 GENERAL MOTORS | | PASSENGER COLORS |
| | |
| --- | --- |
| Paint Job No. | Paint Job No. |

NOCTURNE MIST MET.
2352-1419 *See note below

B

P


EVENING ORCHID MET.
2352-1410

ERMINE WHITE
*2331-1299

C

R


REGAL RED
2333-1402

MIST BLUE MET.
2352-1407

D
2D

S


SIERRA TAN MET.
2352-1409

DANUBE BLUE MET.
2352-1412

E

T


CAPRI GOLD MET.
2352-1404 *See note below

WILLOW GREEN MET.
2352-1408

H

V


CAMEO BEIGE
2331-1400

CYPRESS GREEN MET.
2352-1414

J

W


GLACIER GREY MET.
2352-1406

ARTESIAN TURQUOISE MET.
2352-1405

K

Y


CROCUS YELLOW
2331-1401

TAHITIAN TURQUOISE MET.
2352-1413

L

Z


SATIN SILVER MET.
*2352-1358 *See note below

MADEIRA MAROON MET.
2353-1411

N

A


TUXEDO BLACK
*2352-1358
*Also used in 1964
TWO-TONE INFORMATION
1965 — PASSENGER
CODES USED TO IDENTIFY PAINT JOBS WILL BE ALPHABETICAL AS LISTED.
1st LETTER — LOWER COLOR
2nd LETTER — UPPER COLOR
EXAMPLE: ON A CAR PAINTED REGAL RED THE PAINT JOB WILL BE R. WHEN A REGAL RED CAR IS TWO-TONED WITH AN ERMINE WHITE ROOF THE PAINT JOB JOB NUMBER WILL BE RC.
*Note: This paint chart is a General Motors passenger car color chart and includes three colors that were NOT available on Corvairs; Nocturne Mist Metallic, Capri Gold Metallic, and Satin Silver Metallic. It is also worth noting that Evening Orchid, Crocus Yellow, and Glacier Gray were exclusive to Corsa and Monza series cars, and were not available on the Corvair 500.
Disclaimer: The displayed colors were scanned in 24-bit color using actual paint chip charts. Color calibration was achieved using a Matrox Millennium graphics card. They are best viewed by adjusting the brightness of your monitor to the point at which the black background on this page appears truly black. Please keep in mind that the colors are only approximate. If you are in the process of making an important color decision, I urge you to contact your Corvair parts vendor for actual chip charts.
C A N A D I A N I N D U S T R I E S L I M I T E D
Choose other year.
Select from the navigation bar!