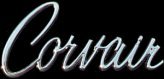 Design Studies
Chris Happé visits GM Design
I also took a few pictures of the (Corvette prototype) Manta Ray which was in the foyer, and when we were leaving we were invited to visit a display of future propulsion vehicles. There, we discovered the Electrovair II, an electric-powered 1966 sedan, its trunk filled with batteries. It was inside a big tent, and by then I was down to black and white film, but I did get a few shots of it. Unfortunately, because of the way the car was positioned, I wasn't able to get a wide shot. However, you might enjoy some of the detail pictures. I've seen color shots of the Electrovair II on the CORSA web site, in the Museum section. (Use the link at the bottom of this page or see the Links section of this site, Corvair Clubs/Organizations. Ed.)
| | |
| --- | --- |
| The Corvair was a car of firsts; first American domestic car with all 'round independent suspension, first to use a turbo-charger (along with Oldsmobile in the 1962 model year), first fold-down rear seat, etc., so it's no surprise that the Corvair was selected by GM for its early electric vehicle design exercises. Pictured here is Electrovair II, which was based on a 1966 Monza sport sedan. The first Electrovair was based on an early model, 1964 Monza sedan. | |
According to the Society of Automotive Engineers (SAE) paper #670175, "Electrovair - A Battery Electric Car," the 1964 Corvair was chosen for the first conversion to an electric drive.
| | |
| --- | --- |
| Quoting from the SAE paper, "It was the lightest GM production car available, and its rear drive was ideal for a compact and simple motor installation. The problems encountered in Electrovair I suggested many basic improvements in the electric drive system. As a result we started on an improved motor control system. Soon it became apparent that building an entirely new car would be easier than upgrading the first car. Thus, the decision was made to build Electrovair II starting from a 1966 Corvair" | |
Jim Burkhard, well known Corvair owner, CORSA and Virtual Vairs Internet discussion group member, describes the SAE document as a "cool paper with lots of info on the challenges inherent with trying to make a practical electric vehicle; definitely recommended for anyone interested in the history of the vehicle." The paper is available for a small fee by requesting it by number from SAE. Contact information is available on the SAE web site: http://www.sae.org/

At right, some of the touches that set the Electrovair dash apart from the production car. Large meters for monitoring volts and amps occupy the space normally reserved for the radio. The in-dash "gear" selector differs from the Powerglide selector in that it has no "L" for low. The chrome handle under the dash is for the emergency brake.
| | |
| --- | --- |
| In this photo we see the electric drive. Electrovair II was powered by silver-zinc batteries in a 532 volt array driving a 115 hp AC-Induction motor. Top speed was 80 mph (129 kph) and range was 40 to 80 miles (64-129 kilometers). The 3400 lb (1542 kg) sedan could accelerate from 0-60 mph (0-96.56 kph) in 16 seconds. It's interesting to note the electric Corvair was almost 1,000 lbs heavier than the stock version. Control was Solid State. | |
Story text and photos (except high windshield SS) by Chris Happé. E-mail: chris.happe@rogers.com
Thanks to Jim Burkhard for information on Electrovair I, and to Dean Campbell of the North Texas Corvair Association (NTCA) for the photo of the high windshield version of the SS.
Note: Color photos on previous pages were digitally altered to compensate for fading due to age. Colors are not exact.
Are you interested in more "inside" photos of Corvair-related design exercises? Click here for an "Extra!" section feature on famous designer Larry Shinoda and the development of the Corvair Astro I. The feature includes an excellent photo of the 176 cu. in. Corvair engine mentioned in the text of the Chris Happé feature.
On the next page, we examine another GM Design vehicle, the XP-737 Sebring Spyder.
Click the road sign for more.

Select from the navigation bar!