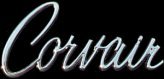 Corvair Memorabilia and Collectibles
Some Corvair fanatics have enormous collections of memorabilia. I can't count myself among those, but find my virtual collection is growing, as I search the Internet for interesting Corvair sites. So far, I've found Corvair cigarette lighters and matchbook covers, key chains, toy cars and Corvair 95 trucks, Corvair pendants and crests, but surprisingly, no lunch boxes!
There are Corvair slot cars, model kits, sales brochures and magazine ads on the web. The majority of the found images are of inferior quality, but some are very good, and as I discover more, I'll expand this feature with a view to sharing some of the better ones.
While the World Wide Web is more than a fantastic place to shop for a vintage Corvair, it also hosts auctions of relatively hard to find Corvair literature and memorabilia.

This 1963 Corvair showroom sales brochure and other items here were found by searching Corvair at http://www.ebay.com
Here are a couple of examples of Corvair memorabilia that have survived the decades.

The "I love my Corvair" button has held up extremely well, probably tucked away in a drawer, while Corgi No. 229, complete with its original box, is well used but complete.
Click the road sign for more.

Select from the navigation bar!