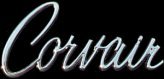 The top-of-the-line Corsa was easily identified by its Argent Silver cove area and the bright grill inserts below the rear bumper, as well as Corsa emblems on the sides.

During the '65 model year, the Corsa had a contrasting pin-stripe running around the nose to the rear cove area on each side, positioned just below the belt-line (absent on the example at right). Bumper guards and wire wheel covers were optional.
All 1965 Corvairs were equipped with 164 cubic inch, horizontally opposed, air-cooled, 6 cylinder alloy engines. Horsepower ratings ranged from 95 to 140 in the Corvair 500 and Monza models, and 140 or 180 in the Corsa series.

The dual exhaust on the Regal Red convertible gives it away as a 140 horsepower car. The 140 HP base Corsa engine featured four single-barrel Rochester carburetors with progressive mechanical linkage which began opening the throttle blades of secondary carburetors (the "wild ones") at about 3/4 pedal travel. The engine also made use of higher compression pistons, and special cylinder heads with special intake runners, larger valves, a dual snorkel air cleaner and dual exhaust.
| | |
| --- | --- |
| | Turbochargers were rare in the Sixties. In fact, the Corvair was one of two North American production cars to use one in the 1962 model year, with GM's Oldsmobile F-85 Jetfire being the other. The turbocharged '65 Corsa engine developed 30 horsepower more than its turbocharged 1962 Monza Spyder sibling. |
While the 1965 Corsa design was impressive, further refinement in 1966 marked the high point in the Corvair's development.

The Corsa, the car that replaced the Monza Spyder for the 1965 model year, was itself phased out for the 1967 model year, when the newly introduced Chevy Camaro hit the show-rooms. This left the Monza as Corvair's top dog for the remainder of the Corvair's ten year production run (1960-1969 model years).
Click the road sign for more about the Corsa.

Select from the navigation bar!