| | |
| --- | --- |
| | 1961 700 Series, Lakewood wagon and Sedan |
Here's a 1961 Corvair 700 Lakewood station wagon I came across in Detroit during Dream Cruise '98. The 700 was the intermediate series, early model Corvair. These cars are often referred to as "orphan Corvairs," because they tend not to be as well loved as the sportier series. Obviously, this 700 is getting lots of love from its owner, right down to its well dressed tires.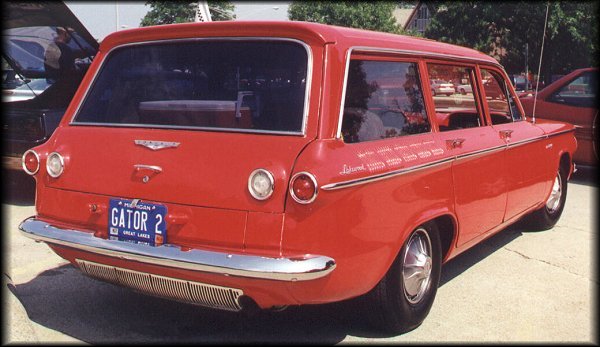 1961 Lakewood wagon
The '61 Corvair 700 sedan below was my dad's first Corvair. Its rear engine/trans-axle design offered excellent traction in snow, and as you can see, we got lots of snow in northern New Brunswick!
The car was pretty basic. The engine was the 80 HP, 145 cu. in. version, with a 2-speed Powerglide automatic transmission with dash mounted selector.
I remember we ordered the back-up lights over the parts counter and installed them ourselves. Back-up lights for the 500 and 700 models were optional and used a clear lens, while the Monza versions were standard equipment and the reflector area was red. Both cars on this page are 700s, so they have the clear lenses. We also added other over-the-counter items including front and rear armrests, a horn-ring and cigarette lighter.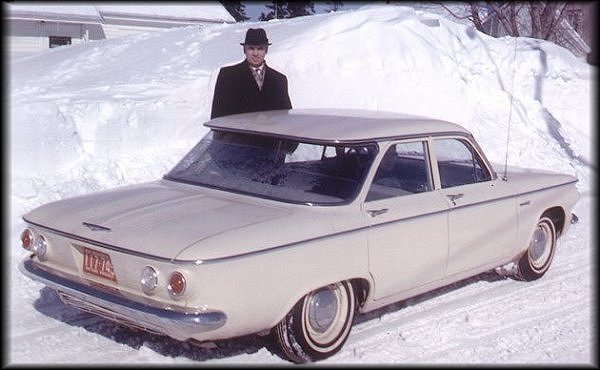 1961 Corvair 700 sedan
That's Dad standing behind the 700. The photo was taken in 1961 to record the impressive snowfall that year.
Notice the air exhaust grill under the rear bumper is pretty badly twisted. Dad liked to hunt deer, and often took the car deep into the wilderness, where gravel would glance off the back wheels and into the soft aluminum. The grill would take the worst beating when you drove on deeply rutted dirt roads when the crown of the road would make contact with the bottom of the car. We returned from one hunting trip with no grill at all.
For a look at many more early model Corvairs, visit the Extra! section from the navigation bar, below.

Select from the navigation bar!